If you've landed here after searching for "How to end a maid of honor speech," you're in the right place. This guide is dedicated to helping you craft the perfect conclusion for your Maid of Honor or Matron of Honor speech.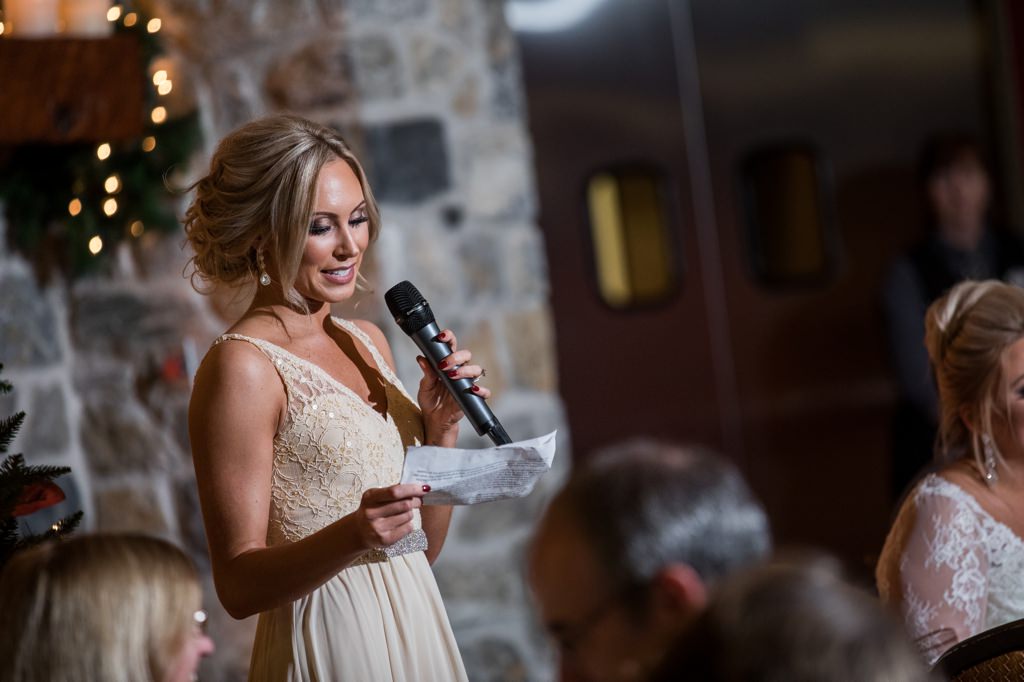 How To End A Maid of Honor Speech (Tips For Ending Your MOH Toast)
Having written an exceptional Maid of Honor speech, the challenge now lies in its conclusion. Here are some tips for wrapping up your speech with finesse:
Keep it concise: Your concluding words should be succinct and impactful, maintaining guest engagement till the end.
Incorporate meaning or humor: Consider adding a meaningful quote or a light-hearted joke, ensuring it aligns with the wedding atmosphere.
Convey well-wishes: Briefly express your happiness for the couple's future journey together.
Raise a toast: Invite attendees to join you in raising a toast to the newlyweds.
End with a hug: Consider concluding with a heartfelt hug for the couple.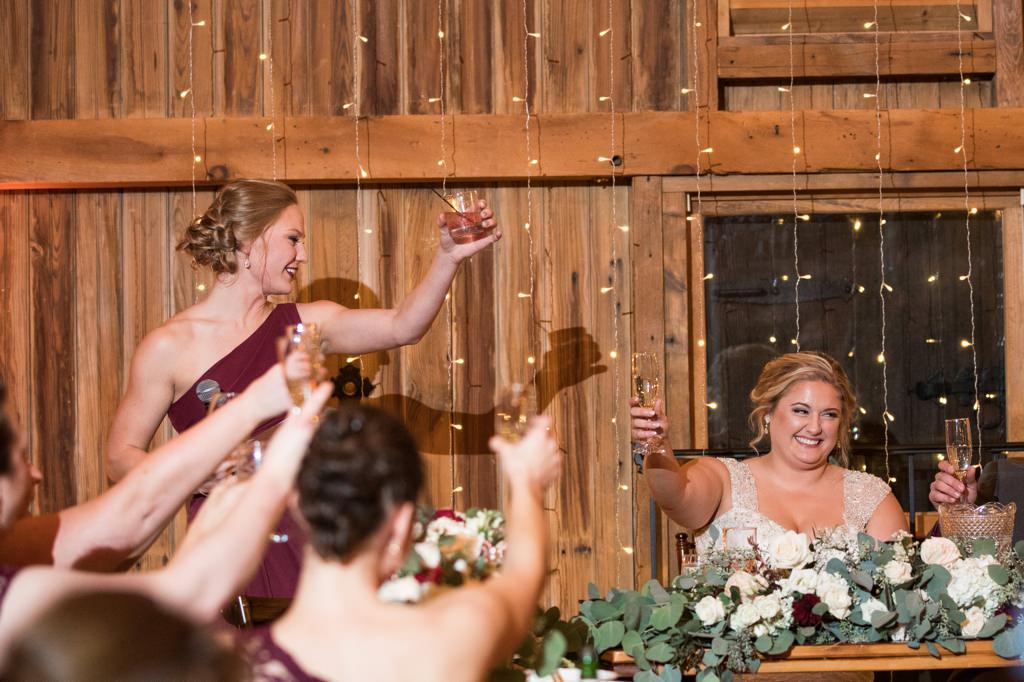 How To End A Maid of Honor Speech To Your sister or Best Friend
The following examples are well-suited for concluding your Maid of Honor speech for your sister, best friend, or anyone who holds a special place in your heart:
Use Famous Quotes To Close Out Speech (Sweet and Sentimental Ideas)
Incorporating renowned quotes into your Maid of Honor speech ending can infuse sweetness and sentimentality. Here are some quotes that can beautifully close out your speech:
"There's a quote from 'Sleepless in Seattle' that fits this moment perfectly. 'It was a million tiny little things that, when you added them all up, they meant we were supposed to be together.' (Bride's name) and (groom's name) have shown us that their love story is made up of countless little moments that have brought them together. Let's raise our glasses and toast to a future filled with love, laughter, and all the million tiny things that make life so beautiful. To (bride's name) and (groom's name), cheers!"
"As we raise our glasses to toast this extraordinary couple, let's remember the words of Audrey Hepburn: 'The best thing to hold onto in life is each other.' To (Name) and (Name), may your lives be filled with endless love, joy, and the wisdom to navigate all of life's challenges. Cheers to a beautiful life together!"
"Dr. Seuss once said, 'You know you're in love when you can't fall asleep because reality is finally better than your dreams.' To (Name) and (Name), may your love continue to make your reality even more beautiful than your dreams. Cheers to a lifetime of love, growth, and happiness!"
"In the words of Robert Browning, 'Grow old along with me! The best is yet to be.' To (Name) and (Name), may your love continue to deepen and grow as you embark on this amazing journey together. May your lives be filled with love, laughter, and endless happiness. Cheers to a lifetime of love and adventure!"
"A poet named Elizabeth Barrett Browning once said, 'Love doesn't make the world go 'round. Love is what makes the ride worthwhile.' (Name) and (Name), may your love make every moment of your journey together worthwhile. Cherish the love you have for one another, and may it guide you through all the ups and downs of life. Cheers to a lifetime of love, laughter, and infinite happiness!"
"To the newlyweds, I want to share this quote from Dr. Seuss: 'We are all a little weird and life's a little weird, and when we find someone whose weirdness is compatible with ours, we join up with them and fall in mutual weirdness and call it love.' (Name) and (Name)…your love for each other is truly unique and special, and I have no doubt that your marriage will be filled with all the love and happiness you deserve."
"I want to end with this quote: 'Being deeply loved by someone gives you strength while loving someone deeply gives you courage.' Your love is a beautiful example of this strength and courage. Congratulations, and may your marriage be filled with all the love and happiness in the world."
"In the words of Maya Angelou, 'Love recognizes no barriers. It jumps hurdles, leaps fences, penetrates walls to arrive at its destination full of hope.' (Name) and (Name), may your love continue to conquer all obstacles, bringing you hope and happiness in your journey together. Cheers to a lifetime of love!"
"As we celebrate the love between (Name) and (Name), let's remember this quote: 'The best and most beautiful things in the world cannot be seen or even touched…they must be felt with the heart.' May your love for each other always be felt deeply in your hearts. Cheers to a lifetime of love, laughter, and endless happiness!"
"As we celebrate this wonderful couple, let us remember the words of H. Jackson Brown Jr.: 'Love is when the other person's happiness is more important than your own.' To (Name) and (Name), may your love continue to be a selfless and beautiful journey where you cherish each other's happiness. Cheers to a life filled with love, joy, and unforgettable memories!"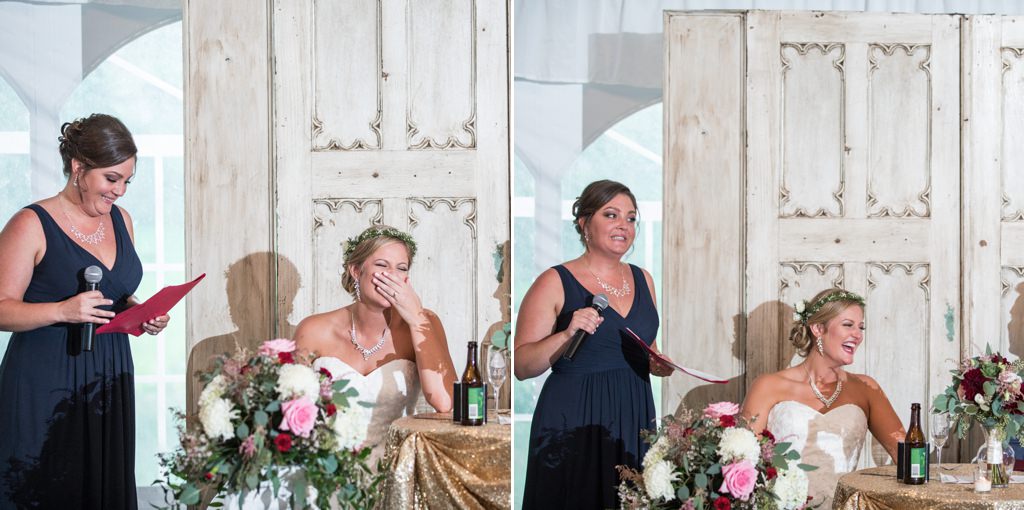 How To End A Maid Of Hor Speech (Funny Quotes and Examples)
If you're looking to add a touch of humor to the conclusion of your Maid of Honor speech, here are some funny quotes and examples that can leave a lasting impression:
"As Stevie from Schitt's Creek once said, 'I have my own holiday tradition. It's like the 12 Days of Christmas but it's one day with 12 bottles of wine.' Today, we celebrate the unique traditions and quirks that make (bride's name) and (groom's name) the perfect match. Let's raise our glasses and toast to a future filled with love, laughter, and a lifetime of creating new traditions together for our amazing couple. To (bride's name) and (groom's name), cheers!"
"In the spirit of love and humor, I'd like to share a quote from Rodney Dangerfield: 'My wife and I were happy for 20 years. Then we met.' (Name) and (Name), may your love bring endless happiness and lots of laughter. Cheers to a life full of love and cherished moments!"
"In closing, let's remember the words of Rita Rudner: 'I love being married. It's so great to find that one special person you want to annoy for the rest of your life.' May your love be a delightful mix of humor, patience, and endless joy. Cheers to a lifetime of love and laughter."
"As we raise our glasses to this fantastic couple, let's remember the witty words of Phyllis Diller: 'Never go to bed mad. Stay up and fight.' (Name) and (Name) may your love be filled with laughter, communication, and the occasional late-night negotiation. Cheers to a lifetime of love, laughter, and making up."
"May your love be like pizza…warm, cheesy, and always satisfying. Cheers to the happy couple!"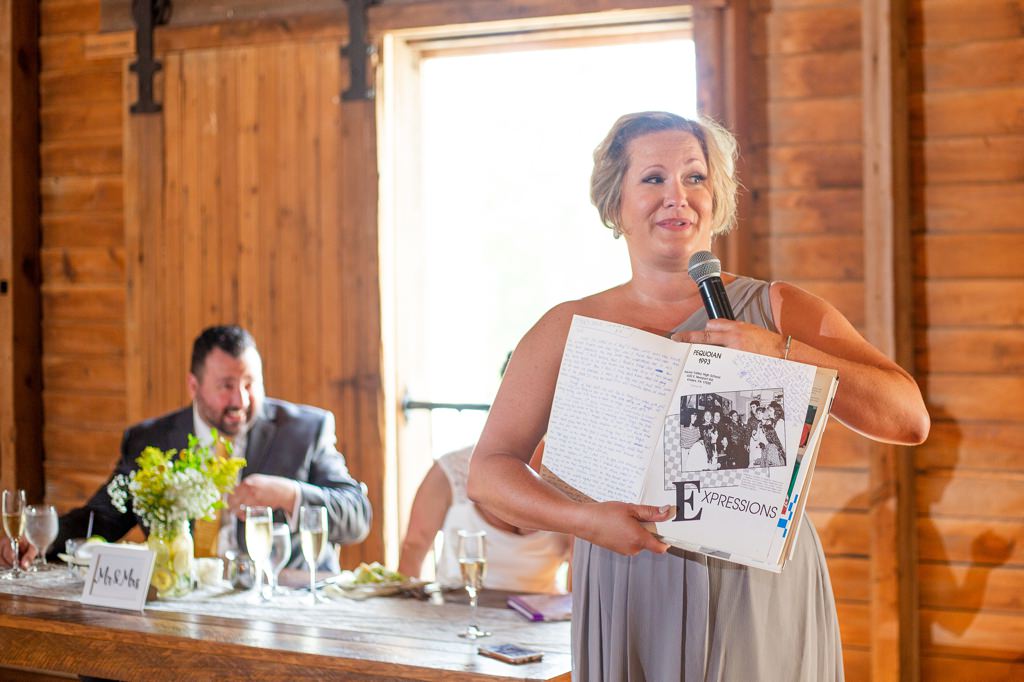 Funny Quotes From The Office To Use at The End Of your MOH Speech
If you're a fan of The Office, consider incorporating these quotes to add a humorous touch to your Maid of Honor speech ending:
"As we raise our glasses to this amazing couple, let's remember the wise words of Michael Scott: 'Would I rather be feared or loved? Easy. Both. I want people to be afraid of how much they love me.' To (Name) and (Name), may your love be both fearless and full of laughter. Cheers to a lifetime of love and laughter!"
"In the words of Andy Bernard from The Office, 'I wish there was a way to know you're in the good old days before you've actually left them.' To (Name) and (Name), may your love be a constant reminder that every moment spent together is a part of the good old days. Cheers to a lifetime of love, laughter, and cherishing every single moment!"
"There's a quote from The Office where Kevin says, 'I just want to lie on the beach and eat hot dogs. That's all I've ever wanted.' I love that quote! So cheers to a lifetime of love, laughter, relaxation, and the pursuit of life's simple pleasures."
"As we come together to celebrate the love between (Name) and (Name), let's remember the words of Pam from The Office: 'There's a lot of beauty in ordinary things. Isn't that kind of the point?' May your love be a testament to the beauty in the ordinary, as you create a life full of laughter, love, and the appreciation of everyday magic. Cheers to a lifetime of love, laughter, and finding beauty everywhere you look."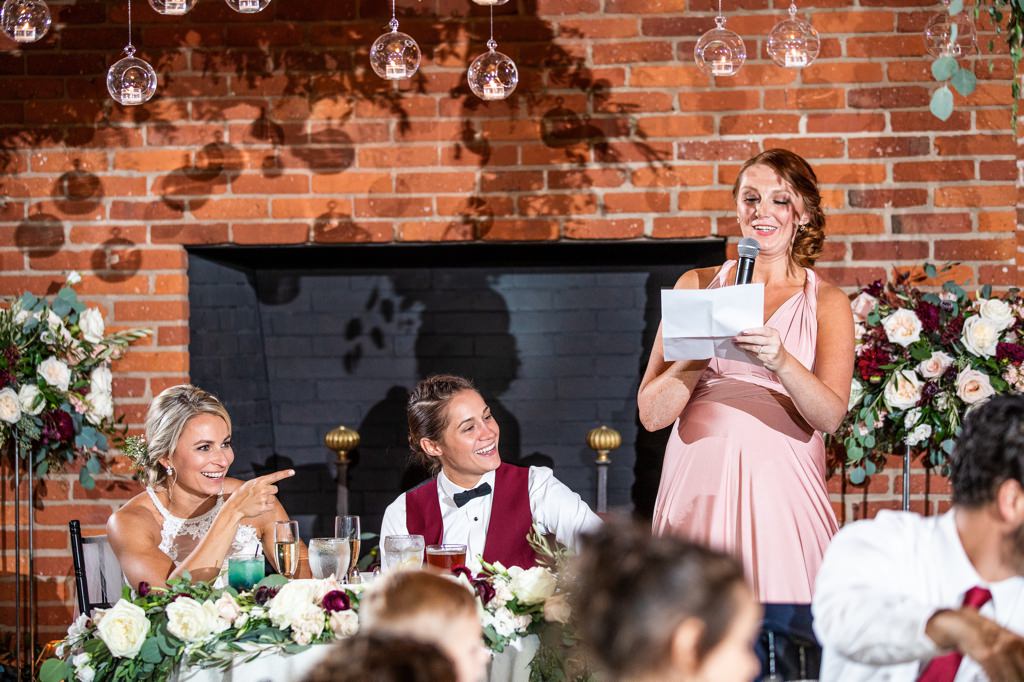 Simple and Sweet Ways to End Your Maid of Honor Speech
For a heartfelt and simple ending to your Maid of Honor speech, consider these options:
"I want to thank (Name) and (Name) for allowing us to share this special day with them. Your love is a true inspiration, and I have no doubt that your marriage will be filled with joy, laughter, and endless love. Congratulations and best wishes!"
"To wrap things up, I want to offer this piece of advice: always remember to put each other first. Your love for each other is the foundation of your marriage, and if you continue to prioritize each other, your marriage will only get stronger. Congratulations and may your love continue to flourish!"
"In closing, I want to celebrate and congratulate this amazing couple standing before us today. You both bring out the best in each other, and your love is truly inspiring. May your journey together be filled with love, laughter, and endless happiness. To (Name) and (Name), cheers to a lifetime of love and adventure!"
"I am so grateful to be a part of this incredible love story, and I know that the love between the two of you will only grow stronger with time. To the happy couple, may your love for each other be your guiding light through all of life's adventures. Cheers to love, laughter, and happily ever after!"
"As we come together to celebrate the love between (Name) and (Name), let us remember that true love is a precious gift. Cherish the love you have for one another, and may it guide you through all the ups and downs of life. To a lifetime of love, laughter, and infinite happiness…cheers!"
"Always remember that a successful marriage is not just about finding the right person, it's about being the right person. You both possess the qualities of kindness, respect, and love that make you perfect for each other. Congratulations, and may your marriage be filled with endless love and happiness."
"I want to offer a quote that has always inspired me: 'A successful marriage requires falling in love many times, always with the same person.' Your love is a true testament to this quote, and I have no doubt that your marriage will be filled with all the love and happiness you deserve. Congratulations and best wishes!"
"(Name) and (Name)…I want to say that your love is a true blessing to everyone around you. Your kindness, generosity, and love for each other are truly inspiring to me and everyone else in this room. Congratulations, and may your marriage be filled with all the love and happiness in the world."
"To the newlyweds, may your love be like a fine wine, getting better and better with each passing year. In the words of the famous poet Emily Bronte, 'Whatever our souls are made of, his and mine are the same.' Cheers to the happy couple!"
"I want to raise a toast to the happy couple. You both complement each other in a way that is truly special. Congratulations, and may your marriage be filled with all the love and blessings in the world."