Are you seeking a touch of uniqueness to infuse into your wedding ceremony? In the year 2023, many couples are embracing non-traditional wedding ceremony ideas that align with their personalities and preferences. If you find yourself looking for alternatives to the conventional, whether due to non-religious inclinations or a desire for authenticity, you're in the right place.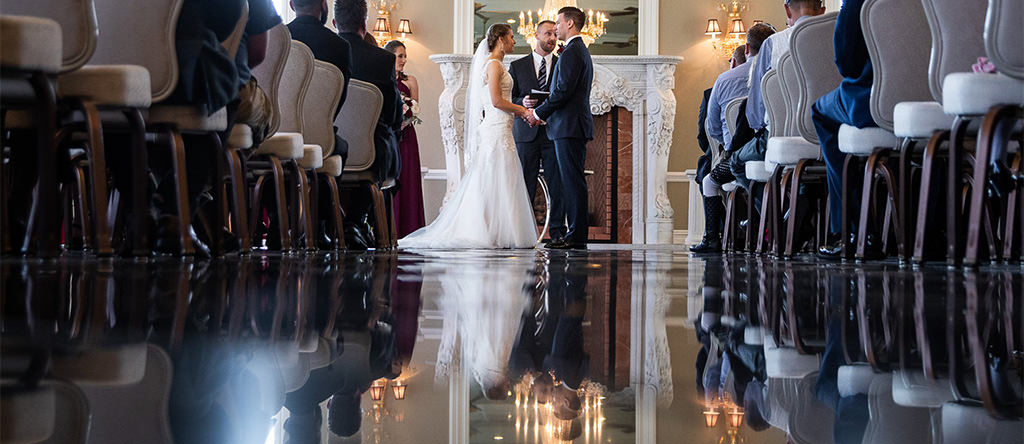 Personalizing Your Ceremony: A New Horizon
Numerous couples discover themselves incorporating elements into their wedding ceremony that may lack personal significance or deeper understanding. Tradition, at times, can dictate certain aspects that don't resonate with the couple's desires or beliefs. The beauty of the current era is that you have the power to mold your wedding ceremony according to your vision. If your ideas are progressive or unconventional, rejoice! There are no set rules to adhere to. Embracing a secular wedding ceremony is absolutely acceptable. After all, your wedding day is a reflection of your unique bond.
Memorable Wedding Ceremony Ideas (A Non-Traditional Entrance and Exit)
Having been part of almost 500 weddings as planners and photographers, we've witnessed an array of distinctive and memorable wedding ceremonies. If you're in pursuit of an unconventional touch to make your special day truly stand out, we've got you covered. Here are a few remarkable concepts that caught our attention:
1. The bride arriving at the wedding ceremony on a horse
Emily made a grand entrance atop her beloved horse, riding bareback as she emerged from the wooded surroundings, captivating the gaze of the wedding attendees. This choice was a splendid manifestation of her passion for horses, adding a delightful twist to her ceremony.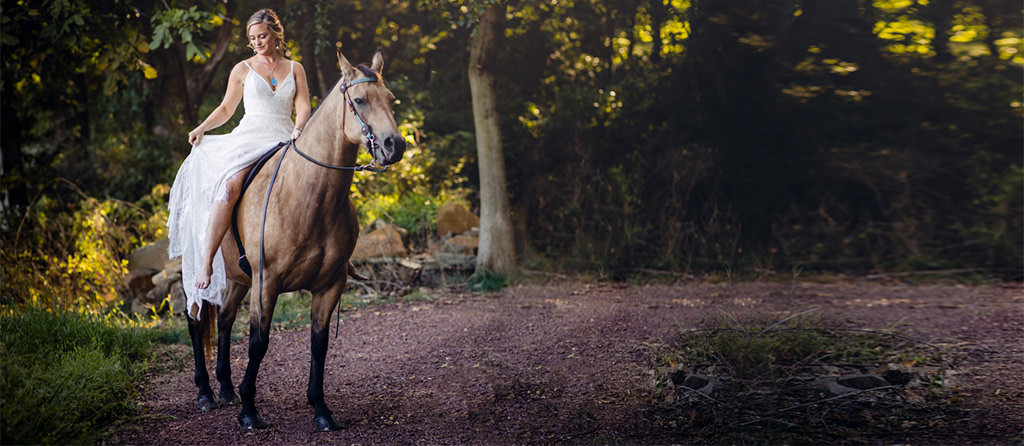 2. The flower girl riding a scooter down the aisle
Witness an adorable flower girl making an entrance on a scooter, showcasing style and charm as she glided down the aisle. It's hard to deny the cuteness quotient of this creative addition. Additionally, stories abound of ring bearers and flower girls arriving on power wheels, crafting a fun and endearing atmosphere.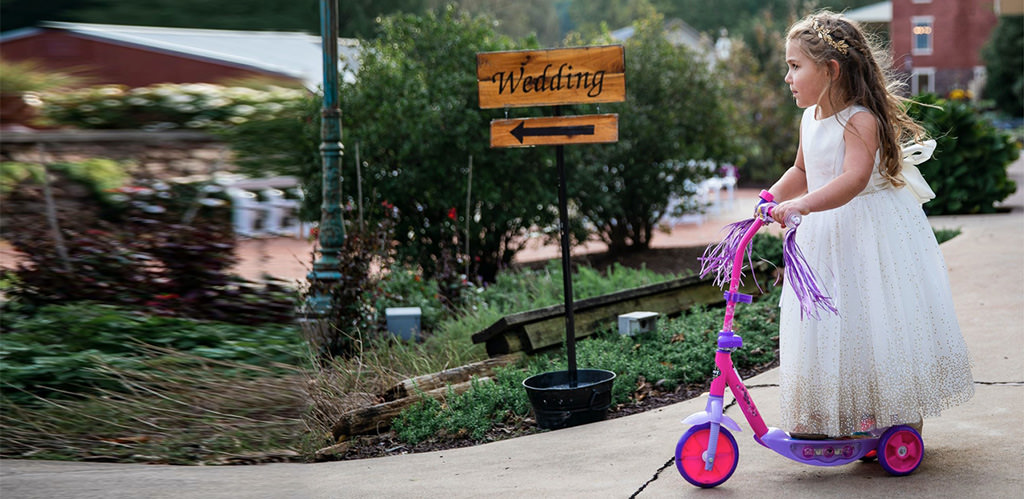 3. The bride and the father-of-the-bride doing a shot together right before walking down the aisle
The bride and her father shared a candid moment at the aisle's entrance, engaging in a shot together before embarking on the walk down the aisle. With concealed shots tucked into his jacket, the father-of-the-bride orchestrated a delightful surprise, fostering a spirited atmosphere that resonated with the guests. This offbeat concept left a lasting impression, becoming one of our cherished favorites.
Embrace the freedom that the year 2023 offers, as you weave your narrative into your wedding ceremony. By infusing non-traditional elements that mirror your personalities, you'll craft an event that is as exceptional and remarkable as your love story.
4. Pre-Ceremony Cocktail Hour:
Make your wedding entrance even more inviting by offering your guests a pre-ceremony cocktail or refreshing non-alcoholic beverage. Arriving about 30 minutes before the ceremony, this gesture allows everyone to socialize and exchange greetings before taking their seats.
5. Bride's Majestic Arrival: Horse and Carriage:
Channel your inner Cinderella with an enchanting entrance. Arriving at your wedding ceremony in a horse-drawn carriage exudes an air of regality, making you feel like true royalty. This extraordinary experience is sure to leave a lasting impression.

6. Miniature Horses as Ring Bearer and Flower Girl:
For the couple whose hearts are captivated by animals, this idea is a dream come true. Enlist two adorable miniature horses as your ring bearer and flower girl, weaving a charming touch into your ceremony. These pint-sized attendants can even join the wedding party down the aisle, adding whimsy to the proceedings.
7. Energetic Wedding Party Recessional:
Infuse your wedding ceremony with exuberance by orchestrating an unforgettable wedding party recessional. By playing an upbeat and lively song, you can encourage your wedding party to dance joyously down the aisle, setting a jubilant tone for the celebration. This creative twist is bound to elicit smiles and cheers from your guests.
Music that Sets the Mood: When searching for the perfect song to accompany this lively procession, consider tunes that radiate positivity and playfulness. Here are a few spirited song suggestions that can elevate the atmosphere:
"Jump In Line (Beetlejuice)" by Harry Belafonte (Featured in the movie Beetlejuice)
"Hold On (Bridesmaids)" by Wilson Phillips (Featured in the movie Bridesmaids)
"I'll Be There For You" by The Rembrandts (Theme song from the TV show Friends)

8. Craft Personal Vows:
Elevate the emotional resonance of your wedding ceremony by composing your own vows or love letters. These heartfelt words offer a deeply personal touch, creating a unique and memorable moment. Capture the essence of your commitment in a way that resonates with both you and your guests.
9. Embrace Your Children's Presence:
If children are part of your lives, incorporating them into the ceremony can add a meaningful layer. Whether as participants in the wedding party or through heartfelt readings, their involvement imparts a personal and heartwarming sentiment to the celebration.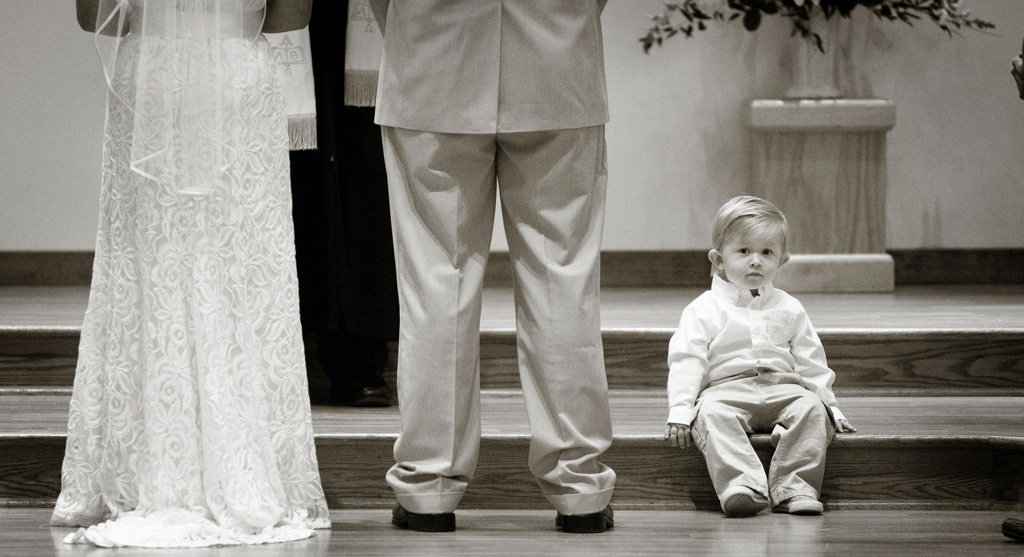 10. A Loved One as Officiant:
Infuse your ceremony with intimacy by having a family member or dear friend officiate your wedding. This distinctive choice imparts a personal touch to the proceedings, making the ceremony even more meaningful and authentic.
11. Unconventional Wedding Party Dynamics:
Embrace a modern approach to your wedding party by disregarding traditional gender roles or strict symmetry. Include whoever holds a special place in your hearts, regardless of convention. Whether same-sex or mixed-gender, prioritize the presence of those closest to you in your wedding party, shaping a more genuine and inclusive celebration.
12. Include Your Beloved Pets:
Elevate the sentimentality of your wedding ceremony by involving your furry companions in the proceedings. Integrating your cherished pets adds an endearing and personalized dimension to your special day. Numerous specialized companies offer services to ensure your pets are seamlessly incorporated into the event. With their assistance, you can relish in your celebration without worrying about your pets' well-being. Whether you opt for a brief photo session or a more active role in the wedding party, the presence of your pets can infuse your ceremony with warmth and charm. Consider the heartwarming sight of a groom walking down the aisle accompanied by his two canine companions, who effortlessly took on the roles of ring bearer and flower girl.
13. Non-Traditional Ring Bearers and Flower Girls:
Challenge traditional norms by reimagining the roles of ring bearers and flower girls. Rather than limiting these roles to young children, some couples have chosen parents or grandparents to fulfill these heartwarming responsibilities. The inclusion of a grown-up flower girl or ring bearer evokes a touching sense of nostalgia and showcases the enduring bond between generations.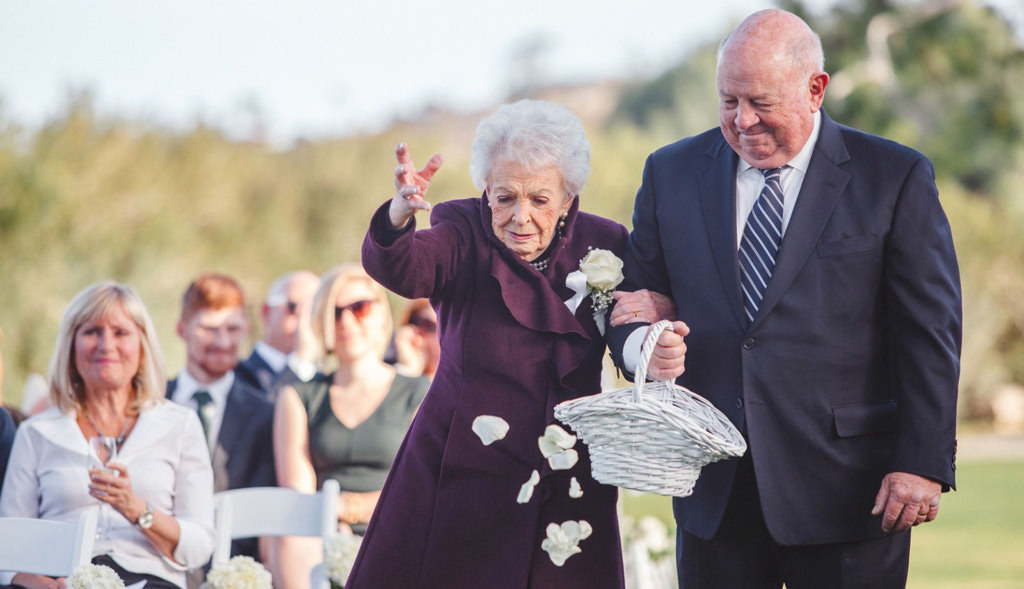 14. Reader's Choice Readings:
Embrace a collaborative spirit by inviting your readers to select their own readings for the ceremony. Offer them certain guidelines, such as adhering to a two-minute time limit, and allow their personal expressions to infuse the ceremony with authenticity and diverse perspectives.
15. Wedding Party-Free Ceremony:
Break away from tradition by forgoing a formal wedding party altogether. Simplify the proceedings by eschewing a designated wedding party while still enjoying the company of close friends during your preparations. This approach allows the focus to remain squarely on the couple as they exchange vows and embark on this new chapter of their lives.

16. Infuse Vibrant Beats into the Wedding Party Processional:
Inject an element of excitement and energy into your wedding party's entrance by selecting fun and upbeat music for their processional. For a comprehensive collection of unconventional wedding songs, refer to the list provided below (or explore our detailed compilation of songs to complement your walk down the aisle).
17. Unveil a Surprise Wedding:
Create an unforgettable moment of astonishment by orchestrating a surprise wedding. In one captivating instance, attendees arrived under the impression of attending an engagement party. However, to their astonishment, the event transitioned into a wedding ceremony. As the officiant called everyone together, the bridal party gracefully made their entrance, followed by the bride escorted by her father. The spontaneity of the occasion, coupled with the genuine surprise on everyone's faces, rendered this surprise wedding an unforgettable experience.
18. Utilize School Buses for Guest Transportation:
Employing school buses to ferry guests to and from the ceremony and/or reception venues presents an economical and practical solution. This approach proves particularly advantageous if transportation provisions were already in your plans. Whether shuttling guests from their hotels or utilizing the reception locale as a pickup point, utilizing school buses optimizes convenience and budget-consciousness.
19. Embrace the Tradition of "Jumping the Broom":
Incorporate the meaningful tradition of "jumping the broom" into your wedding ceremony. Rooted in African American heritage, this practice symbolizes the creation of a new beginning and has been a customary element in many black weddings. For further insights into this tradition, resources such as Oprah Daily and Brides offer valuable perspectives on its historical significance and ceremonial execution.
Wedding Ceremony Ideas To Involve Guests
Elevating your wedding ceremony with the presence of cherished friends and family members has become a sought-after trend. Below, we present a selection of our preferred ideas for involving your loved ones in your special moment:
1. Ring Warming Ceremony: Sharing Blessings and Love
The ring warming ceremony stands as a remarkable way to engage your guests in the essence of your wedding ceremony. Prior to the ring exchange, the wedding rings circulate among your guests. Each guest holds the rings, passing them to the next with a brief blessing or prayer if desired. This heartwarming tradition ensures that your rings are embraced with the well wishes of your closest ones. For larger gatherings, a modified version can encompass the front rows, including parents, siblings, and grandparents.
2. Anecdotal Tributes from Loved Ones: Heartfelt Narratives
Deviate from conventional wedding readings by welcoming family and friends to share endearing stories about the couple. To ensure the tales remain fitting for all audiences, it's advisable to review the stories beforehand. This approach fosters a sense of nostalgia and connection, bridging generations and experiences in your celebration.
3. Bubbles of Joy: Whimsical Photo Moments
Greet your arriving guests with small bottles of bubbles, distributed by a younger family member or sibling. At the designated moment, guided by the officiant or presenter, all guests participate in a synchronized bubble-blowing spectacle. Coordinated countdowns, such as 5-4-3-2-1, enhance the visual impact, creating captivating photos. To amplify the effect, appoint a few individuals armed with bubble shooters at the end, generating an enchanting cascade of bubbles.
4. Collective Bouquet Crafting: Blossoms of Unity
Enrich your wedding ceremony with a bouquet collectively fashioned by friends and family. At the entrance, arrange baskets of loose flower blooms, inviting guests to select their favorite. Prior to the ceremony, guests pass their chosen blooms down the rows. As the bride proceeds down the aisle, she gathers these cherished flowers, culminating in a bouquet infused with affection. To mark her entrance, a designated person at the aisle's outset can present the first flower, symbolizing the commencement of this collaborative arrangement.
Elevate your wedding ceremony by integrating these heartwarming ideas, enabling your guests to contribute to the beauty of your special day.

Non-Traditional Wedding Processional Order and Ideas
Embrace the essence of your unique wedding day by deviating from the conventional processional order. This is your moment, and you have the freedom to arrange it as you envision. Consider this non-traditional wedding processional order, adaptable to your preferences:
Grandparents of the groom escorted by the groom and the parents of the groom
Grandparents of the bride escorted by the mother of the bride (and the bride's brother/brothers if the bride has siblings)
All groomsmen together (organized in 2-4 groups according to the wedding party size)
All bridesmaids together (organized in 2-4 groups according to the wedding party size)
Children involved in the wedding (ring bearers and flower girls together)
The bride and the father of the bride (Or step-dad, brother, or whoever is walking the bride down the aisle)
An alternative approach for the wedding party is to pair 1-2 bridesmaids with 1-2 groomsmen, allowing flexibility to match your wedding party's composition and size. An emerging trend showcases the father-of-the-bride and mother-of-the-bride escorting the bride down the aisle.
Non Traditional Wedding Unity Ideas (Unconventional and Unique Ceremony Events)
While the tradition of the unity candle has persisted for a relatively short period (starting in the 1970s), there exists an array of modern and non-traditional alternatives. If you seek a distinctive unity ceremony, we've gathered some ideas that could resonate with you.
Wine Unity Ceremony, Beer Blending Ceremony, Mixed Cocktail Ceremony, Oh My!
For those with an affinity for beer or wine, this provides an enjoyable twist on the unity ceremony.
These unity ceremonies can be approached in various ways. Here are two examples:
1. Blending Two Drinks into One:
Each partner selects a distinct kind of wine or beer, reflecting personal preferences.
In unison, pour a portion of each beverage into a shared glass or mug.
Commence your journey as a united front by taking a sip from the combined concoction.
Preserve the bottles and glasses as keepsakes, adorning a shelf in your home. Quick Tip: Prior to the ceremony, sample different combinations to ensure a favorable taste. Avoid any potential surprises during the unity ceremony.
2. Sharing a Single Beverage:
Choose a cherished beer stein or wine glass to symbolize this union.
Pour a single beer or wine into the shared vessel.
Both partners partake in a sip from the combined beverage.
This cherished item can be integrated into family traditions for generations to come, with future weddings featuring the same stein or glass.
Feel free to explore mixed drinks or shots, tailoring the unity ceremony to your preferences.

Tree Planting Unity Ceremony
For those seeking an environmentally conscious touch, the tree planting unity ceremony offers a perfect fit within your wedding celebration. This eco-friendly gesture can be executed in two popular ways:
Planting the Tree in the Ground:
Recommended for backyard weddings where the couple intends to reside long-term.

Prepare the planting hole in advance (saving soil for the last shovelful from each partner).

Plant the tree and replenish the soil.

Water the newly planted tree.

During the ceremony, the officiant can articulate the significance of the tree planting, while a special song plays, ensuring a meaningful memory.
Planting a Small Tree or Potted Plant in a Container:
Place a potted plant on a table with containers of soil.

Each partner adds soil from meaningful locations.

Water the plant together.

The officiant can convey the choice of tree/plant and its symbolism.
Portraits (Drawing)
For art enthusiasts, a unique portrait drawing unity ceremony can infuse creativity into your celebration. By eliciting laughter and joy, this ceremony stands out:
During the ceremony, while the officiant recounts how the two brides met during art class, each bride engages in a speed drawing on separate canvases without looking down. This 60-second challenge, a testament to their connection, results in whimsically amusing artwork. The final reveal sparks both laughter and admiration, commemorating their special bond through art.
Wine Box Unity Ceremony
Enthusiasts of wine can incorporate the wine box unity ceremony into their wedding:
Insert Favorite Wine in a Box:
Place a favored bottle of wine in a personalized box.

Add heartfelt love letters for future reading.

Secure the box to be opened on a chosen anniversary (e.g., 1 year, 5 years, 10 years).

Some couples use the box to address challenges in their marriage.
Time Capsule Unity Ceremony (without Alcohol)
Similar to the wine box ceremony, the time capsule unity ceremony centers on love letters and keepsakes:
Assemble the Time Capsule:
Prepare a container with mementos and letters.

Select a future anniversary to open the capsule.

Enjoy a heartwarming evening together while revisiting memories.
These remarkable unity ceremonies infuse your wedding with personal touches that resonate long after the celebration.