Your ring bearer's entrance is a charming moment that adds a touch of delight to your wedding ceremony and reception. Choosing the right song for this occasion can enhance the joy and create a memorable experience for everyone present. Here's a collection of ring bearer entrance songs to consider for both your ceremony and reception, tailored to different moods and styles.
Funny Ring Bearer Entrance Songs To Use For Wedding Ceremony or Wedding Reception
"I Like to Move It" by Sacha Baron Cohen (Madagascar) – A lively and fun choice for a ring bearer entrance.
"The Imperial March (Darth Vader's Theme)" by John Williams (Star Wars) – Add a humorous twist with this iconic villain theme.
"(Theme From) The Monkees" by The Monkees – A cheerful tune perfect for multiple ring bearers.
"Somebody's Getting Married" by The Muppets – A hilarious and entertaining option that surprises your guests.
"Oh Yeah" by Yello (Ferris Bueller's Day Off) – A playful and recognizable track for a unique entrance.
"Bad to The Bone" by George Thorogood & The Destroyers – Add some rock 'n' roll flair to the entrance.
"Sesame Street Theme Song" by Sesame Street Kids/Cast – A nostalgic and lighthearted choice.
"Mission Impossible Theme Song" from Mission Impossible – Create a sense of excitement and intrigue.
"(You Gotta) Fight For Your Right (To Party)" by Beastie Boys – An energetic and rebellious song choice.
"U Can't Touch This" by MC Hammer – Infuse some '90s fun into the entrance.
"Y.M.C.A." by The Village People – Get the crowd involved with this classic dance track.
"Batman Theme Song" from Batman – Add a touch of superhero grandeur to the entrance.
"Never Gonna Give You Up" by Rick Astley – Playfully "Rickroll" your guests for a surprising entrance.
"Beauty and the Beast" by Celine Dion and Peabo Bryson – A lovely choice for a combined ring bearer and flower girl entrance.
"Avengers (End Game Theme Song)" by Alan Silvestri – A dynamic option for fans of superhero movies.
"The Muppet Show Theme Song" by The Muppets – A joyful and playful tune that sets a cheerful tone.
Cute and Sweet Ring Bearer Reception Entrance Songs
"Pure Imagination" by Gene Wilder (From Willy Wonka & The Chocolate Factory) – A whimsical and enchanting track.
"Rainbow Connection" by Kermit the Frog (The Muppet Movie) – A tender and heartfelt song choice.
"When You Wish Upon A Star" by Disney – A classic Disney song that exudes magic.
"You've Got A Friend In Me" by Randy Newman (Toy Story) – A heartwarming choice for close relationships.
"Somewhere Over the Rainbow" by Israel Kamakawiwo'ole – A soulful and soothing entrance option.
"What a Wonderful World" by Louis Armstrong – A timeless and touching track that resonates with love.
"Forrest Gump (Feather Theme)" by Alan Silvestri – A gentle and introspective song for a heartfelt entrance.
"Three Little Birds" by Bob Marley – A positive and uplifting choice that brings smiles.
"Here Comes the Sun" by The Beatles – A joyful and celebratory entrance option.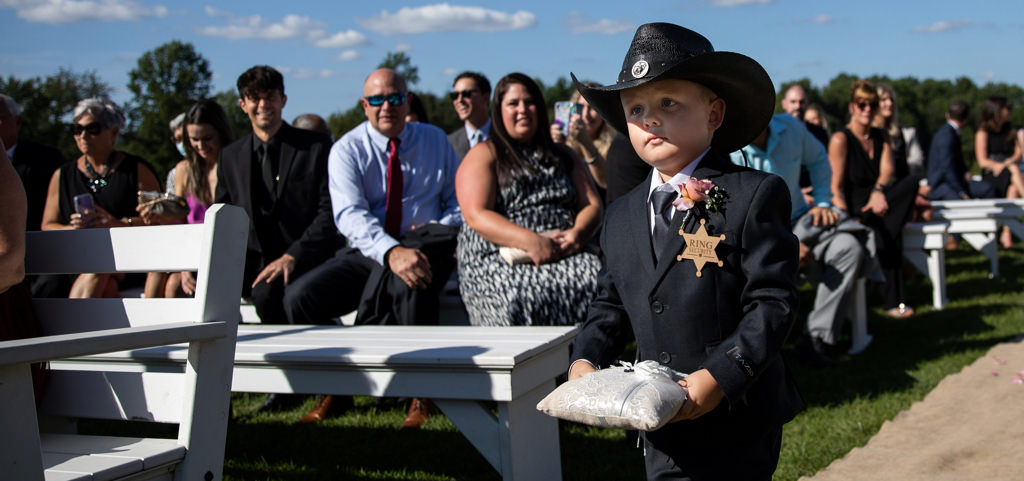 Upbeat Songs For The Ring Bearer to Enter The Ceremony or Reception To
"Happy" by Pharrell Williams – An energetic and feel-good track for an upbeat entrance.
"Everything Is Awesome" by Tegan and Sara (The Lego Movie) – A high-energy choice that adds excitement.
"I'm A Believer" by Smash Mouth (From Shrek) – A lively and joyful entrance song.
"Sweet Child O' Mine" by Guns N' Roses – Add some rock energy to the entrance with this classic hit.
"Twist and Shout" by The Beatles – A dynamic and iconic song that gets everyone moving.
"Party Rock Anthem" by LMFAO ft. Lauren Bennet and GoonRock – A danceable choice for an energetic entrance.
"Walk This Way (ft. Aerosmith)" by Run DMC – A rock-infused option that adds a touch of attitude.
"Can't Stop The Feeling" Justin Timberlake (Trolls) – A contemporary hit that spreads positivity.
"Eye of the Tiger" by Survivor – A motivational track that adds excitement to the entrance.
"The Boys Are Back In Town" by Thin Lizzy – A spirited choice for multiple ring bearers.
"Back In Black" by AC/DC – Add a rock anthem to the entrance for a bold statement.
Country Ring Bearer Entrance Songs
"Life is a Highway" by Rascal Flatts – A lively and spirited country option.
"Wagon Wheel" by Darius Rucker – A heartwarming choice that radiates country charm.
"The Devil Went Down To Georgia" by Charlie Daniels – A fun and energetic country classic.
"Homegrown" by Zac Brown Band – A feel-good country track perfect for the entrance.
"Thank God I'm A Country Boy" by John Denver – A cheerful country anthem for a joyous entrance.
"You Are My Sunshine" by Johnny Cash – A timeless country tune that adds warmth.
Choose a ring bearer entrance song that aligns with your wedding's atmosphere and reflects the personalities of the little ones taking on this special role. Whether you're aiming for humor, sweetness, energy, or country charm, these song choices will help make your ring bearer's entrance a delightful and unforgettable moment.